Back
IBE participates in SINGEK, the first H2020 Innovative Training Network
IBE participates in SINGEK, the first H2020 Innovative Training Network
The Network is devoted to promote single cell genomics to explore the ecology and evolution of hidden microeukaryotes. IBE participation is led by Iñaki Ruiz-Trillo, with a project entitled "Uncultured opisthokonts and the origin of metazoan multicellularity"
26.02.2016
Microbial eukaryotes cover the widest phylogenetic diversity in the eukaryotic tree of life and are essential components of all Earth's ecosystems. Paradoxically, they remain largely unknown, hiding a wealth of genes and genomes that are key to understand the ecology and evolution of microbial ecosystems. Single cell genomics (SCG), including single cell transcriptomics, is an emerging technology that has the potential to retrieve genomic information from individual uncultured microbes recovered directly from natural environments and promises to provide new tools to investigate microeukaryotes in unparalleled detail.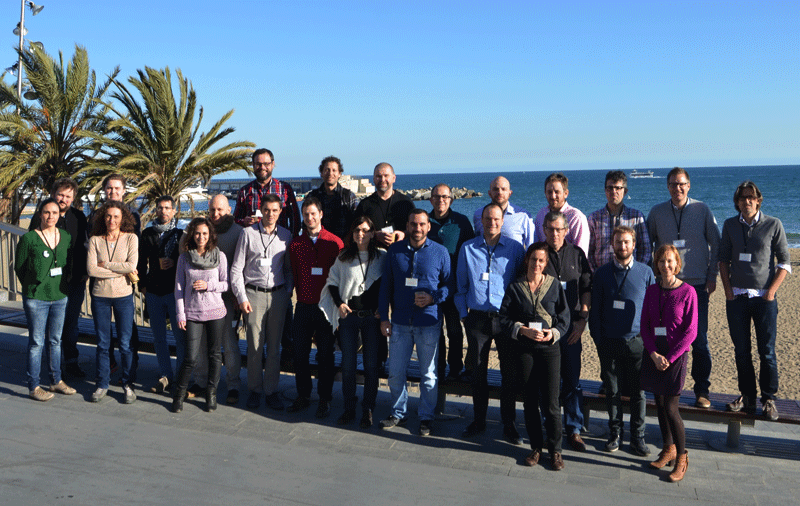 The Innovative Training Network SINGEK coordinated by the Institute of Marine Sciences (ICM) aims to provide a unique training programme to 15 Early Stage Researchers (ESRs) to study microbial eukaryotes at the single-cell level and for the first time addresses critical ecological and evolutionary questions. ITNs, as Marie-Skłodowska-Curie Actions, bring together universities, research centres and non-academic partners from different countries worldwide with the aim to provide innovative doctoral-level training to a new generation of researchers and support their career development through international and intersectorial mobility.
During four years (2016-2019), SINGEK team will focus on training 15 researchers with the highest expertise in Single Cell Genomics, from the initial stages of cell sorting to genome sequencing and gene annotation, to the full exploitation of the data obtained. The SINGEK training network,composed of a multidisciplinary team of researchers from 9 institutions from 5 different countries, will drive training through research by both local and network-wide activities, secondments to other network laboratories and workshops in transferable skills essential for successful career development, and by establishing an environment that extends far beyond each partner team.
Now, SINGEK project offers 15 research positions, most of them leading to a PhD degree. All positions are for 3-years contracts, starting in October 1st, 2016. Research supervisors seek for top-level graduates in biology, bioinformatics, microbial ecology, molecular biology, evolutionary biology, biodiversity, biotechnology, physics, nanoscience, engineering or computer science.
IBE participation is led by Iñaki Ruiz-Trillo, ICREA Research Professor, with the project entitled "Uncultured opisthokonts and the origin of metazoan multicellularity". The objective of this ESR is to obtain genome or transcriptomic data from several single amplified genomes of novel opisthokont taxa.
Candidates may apply through the SINGEK applications system (http://www.singek.eu/call-for-positions/)
More information:
Contact: Ramon Massana (IP), Elena Torrecilla (Project Manager) singek@singek.eu
Multimèdia
Multimedia
Multimedia
Categories: